Hygiene and Safety Measures
More than ever we believe that Tourism is an activity with enough force to generate change and that, using the right tools, we can all emerge stronger from this crisis. Therefore, we have taken another fundamental step for the safety of all our guests, employees and suppliers.
With the "Clean & Safe" Seal, awarded by Turismo de Portugal, we guarantee that we have implemented all safety and hygiene requirements recommended by the Directorate-General for Health for prevention and control of Covid-19.
We will soon be able to welcome you with maximum security.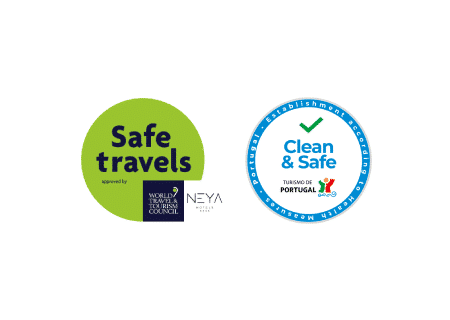 THE HOTEL ENSURES THE AVAILABILITY OF:
Structures for hand washing with liquid soap and water;
Paper towels (the use of fabric towels should be avoided);
Containers suitable for the laying of waste and other waste;
Post posters or leaflets promoting good practices and the guidelines of the Directorate-General for Health;
Personal protective equipment for your employees (mask, gloves, uniform/apron and safety glasses);
An isolation area for when suspected cases of Covid-19 infection are identified in employees or guests.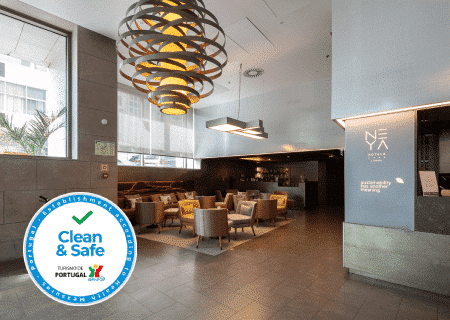 SOCIAL DISTANCING:
We have limited the number of seats in the bar;
We have limited the number of seats in the meeting rooms;
We organized the internal spaces of the hotel with signage to keep the distance of 1.5 to 2 meters between the client and the employees whenever the space allows;
Reduced the maximum capacity of the lifts to 2 people;
For breakfast the buffet service is limited whenever possible by performing a personalized service to the room whenever possible;
The gym service is used only upon advance space reservation and can only be used by one customer at a time.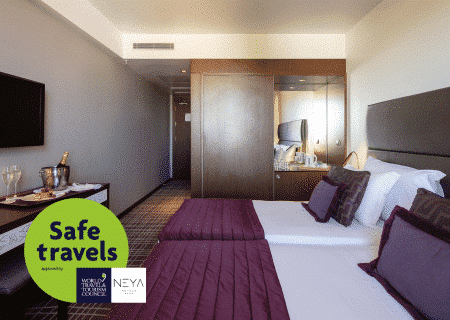 CLEANING AND DISINFECTION OPERATION:
In the rooms the daily cleaning is carried out without the presence of the client;
After the client's departure the rooms are quarantined 24 hours until the next client's entrance;
We offer disinfectant gel through several spaces of the hotel for individual use;
All equipment used by employees and customers is disinfected after each use;
The cleanliness and disinfection of the hotel has been intensified in accordance with DGS standards.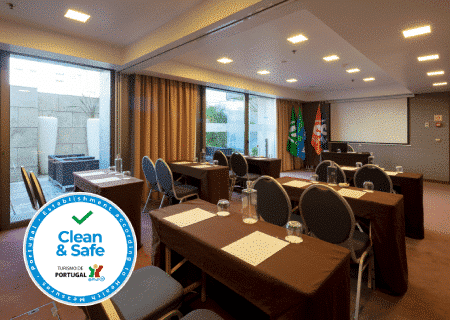 Collaborators:
All our employees are equipped with masks and/or visors;
Cleaning services employees are equipped with disposable gloves, copper feet and gowns;
Temperature measurement is performed daily for all employees.
We offer masks, upon purchase, that are available at the reception to our customers.