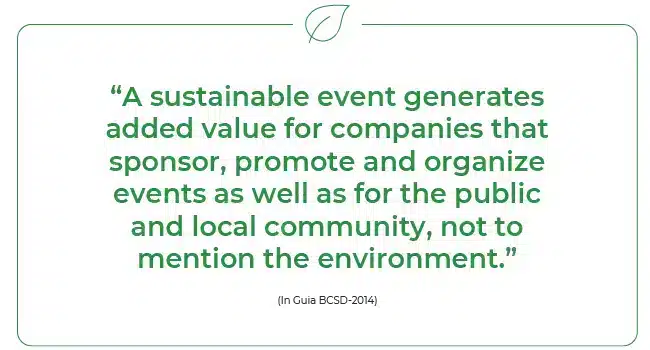 Good reasons to do a sustainable event:
Reduces costs and saves time
It reduces energy, water and paper consumption which, associated with the use of electronic documentation, avoids costs, in addition to the time associated with the acquisition, printing and distribution of printed material.
Decreases the negative impacts
The events industry has major impacts in terms of environment, society and economy.
Sustainability must be an essential condition when planning an event.
Saves resources and reduces waste
Optimises energy and water consumption, eliminates or reduces the number of disposable items and waste production, saves resources, lowers atmospheric emissions, and reduces waste in sanitary landfills.
Promotes the local economy
Adds value to the local economy and it is a great opportunity to showcase regional products. By choosing seasonal products from local suppliers, helps to boost the community's social and economic development.
Promotes environmental responsibility
A sustainable event mirrors your organization's values. It demonstrates that it knows and wants to minimize the environmental impacts of the activity and is willing to take action, in line with the growing demand for sustainable options.
Promotes social responsibility
It allows you to play a role in society by taking an active part in causes to which you can contribute. For example, through the donation of valid unrealized food surpluses.
Why hold an event at NEYA Hotels?

NEYA Hotels pioneered the adoption of a sustainable concept for its hotel project in 2011. From its desire to make a difference in responsible tourism, two units emerged with sustainability as a fundamental pillar of their business model.

QES and Social Responsibility
Through the Quality, Environment, Safety and Social Responsibility Policy, which guides its sustainability principles, it obtained the Certification of Integrated Management Systems in accordance with the Quality (ISO 9001), Environment (ISO 14001) and Safety and Health Standards at Work (ISO 45001).

Sustainable Event Planning
Internal support for sustainability measures for the Event, with the assistance of a Quality, Environment and Safety Technician: Presentation of the Sustainability Concept; Distribution of a Best Practices Brochure; Employees with training in Sustainability.

Member of the GRACE Association (Reflection and Support Group for Corporate Citizenship) dedicated to the promotion of Corporate Social Responsibility.
Partner of Plantar Uma Árvore – Association, which promotes the preservation of forest heritage through sustainable reforestation.

By choosing NEYA Hotels, you ensure that you are aligning the planning of your events with the 17 United Nations Sustainable Development Goals.
Among them, Poverty Eradication, Renewable and Affordable Energies or Climate Action.

NEYA Hotels was distinguished with national and international environmental and social responsibility certifications and awards such as the Green Key, We Care and We Share, Energy Globe Award, Green Projects Awards, Portugal Bike Friendly, among others.

NEYA Hotels can contact a company to calculate the carbon emissions associated to energy and waste management, as well as implementing energy efficiency measures to reduce carbon emissions.

Correct management of natural resources and waste, such as Solid Urban Waste, paper, glass, packaging, tonners, batteries, corks, medication, cooking oil, and organic waste.

The menus are prepared with top quality, in season, fresh ingredients, preferably from local and certified suppliers (such as HACCP certification) thus ensuring low carbon emission meals.

Our menus include options for people with special dietary needs: vegetarians, vegan, halal, lactose or gluten intolerant, among others.

It has a good public transport network and provides complete information about them. It has free parking for bicycles and electric vehicles.
It promotes car sharing and sustainable mobility.

Through NEYA Hotels, companies can continuously support Institutions (not simply a one-off moment) by donating valid surplus food that has not been handled.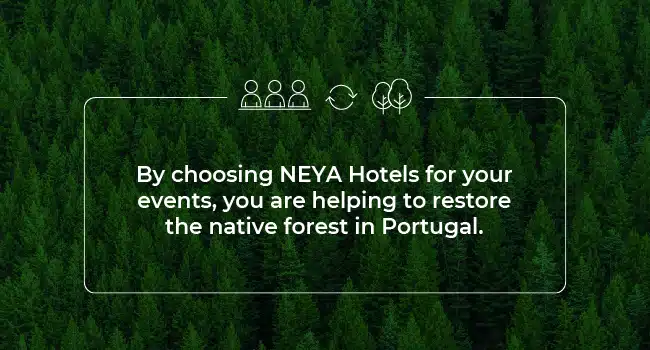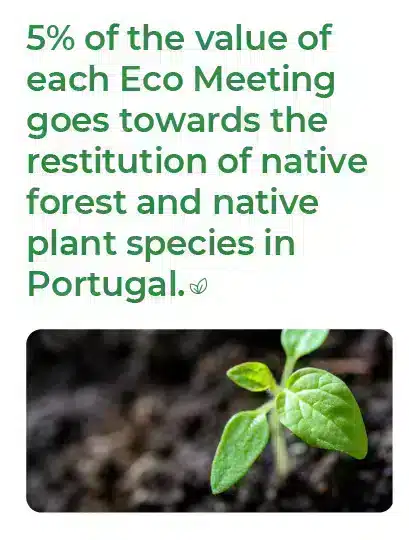 Plantations guaranteed by Hotel NEYA Lisboa and its partner Plantar Uma Árvore – Association, integrated in volunteering initiatives open to the community and in valuation plans or ecological recovery, aimed at restoring the native forest and the sustainability of the autochthone plant species' biodiversity.
1. 5% of the Eco Meeting price goes towards the "Plantar uma Árvore" [Plant a Tree] initiative.
2. The trees will be planted during the planting season the following year.
3. The company may be represented at the beginning of the planting initiative.
4. A report and photo report of the initiative and potential carbon sequestration are prepared and delivered.
We act knowing that a positive and proactive individual ecological attitude is the essence of global change.
(Plantar uma Árvore – Association)